Get to know the breweries and distilleries we visit
Low impact on the Earth is becoming the norm in business across the world and the craft beer and spirits scene in the Northern Rivers is at the forefront of that. At Behind the Barrel, we try to encapsulate the culture of the Northern Rivers through the breweries and distilleries we visit – not to mention all their blends/brews are delicious. Each one of them has their own unique take and style but all of them share the same philosophy of creating as little impact as possible on the Earth whilst the artisans create a beautiful drink in the process.
No matter your reason for visiting the Byron area, whether it's just a Byron Bay day trip or a famous Byron Bay hens weekend or a bucks party in Byron; maybe you are especially here for a cocktail masterclass to see what all the fuss is about. One of our tours will surely fit your needs.
But before you book one of our tours, here is a little bit about all the places we visit…
BREWERIES
Stone & Wood
With their Pacific Ale recently reclaiming the title of the GABS Hottest 100 Craft Beers of 2019 after knocking Balter's XPA off its two-year podium; this is a brewery that needs little introduction. Stone & Wood is known nationwide for taking craft beers to another level after the release of their first beer – the pacific ale – in November 2010 (renamed from their original Draught Ale which was released in 2008).
Climate-conscious beer is on the rise and Stone & Wood could rightfully be considered one of the forefathers of this movement in Australia. They paved the way for other like-minded breweries in the Northern Rivers to follow suit and continue with similar philosophies but with their own unique beers.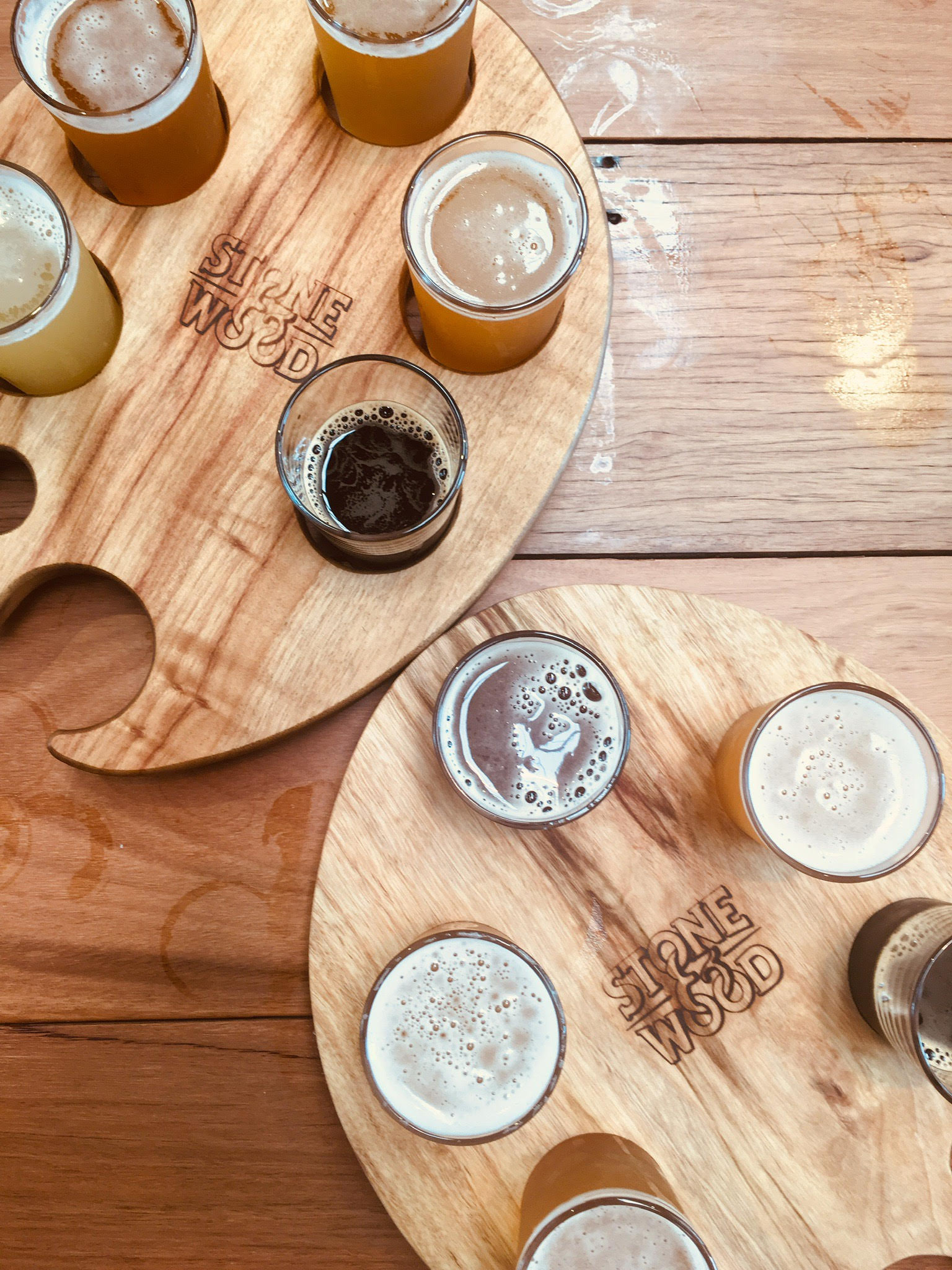 Seven Mile
'As Australia as a seatbelt branding on a hot summers day' is the way Seven Mile describe their new Australian Summer Ale, findings its way into their core range of beers.
Located in Ballina's industrial estate just next to the airport, the brewery is cleverly located for a cold beer after a long flight. Seven Mile Brewing Co. is family owned and operated, having started with the simple goal of craft the best beer possible. No compromises.
Noticing their beer pop up in many venues around the Northern Rivers and the Gold Coast has been a great experience. Seven Mile has well and truly earned their reputation and has put Ballina on the craft beer map.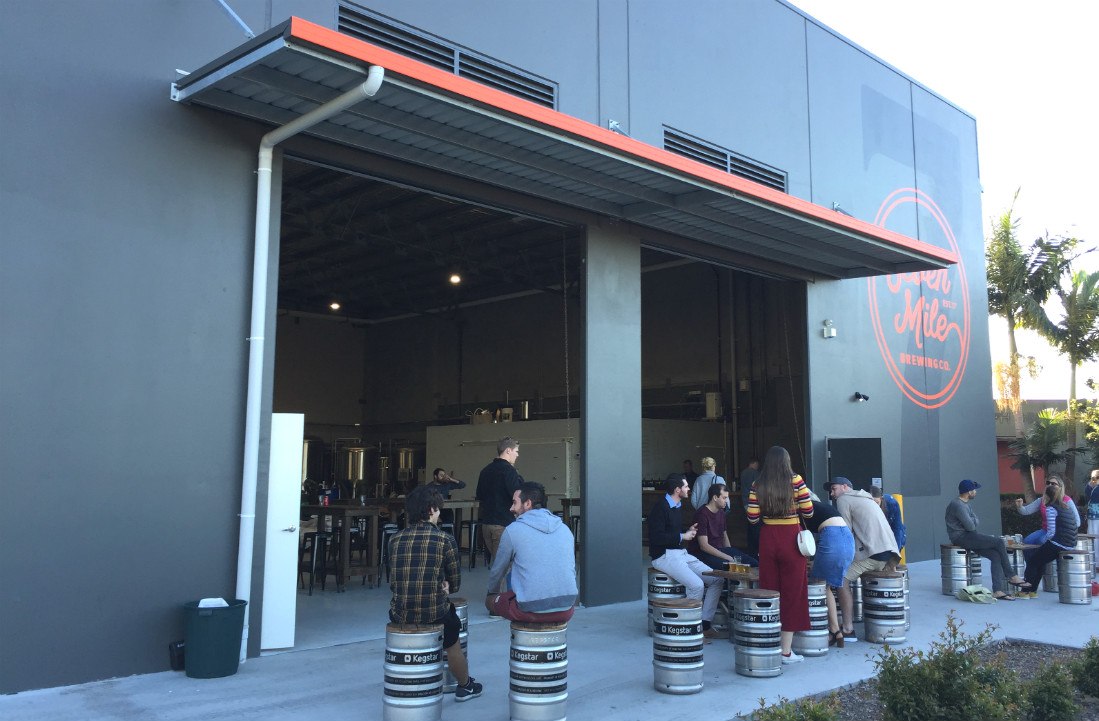 Byron Bay Brewery
A hub for both local and international music and delicious food, Byron Bay Brewery creates the ultimate atmosphere for a well-earned beer on a Friday arvo. Located in the Old Arts Factory in Byron, Byron Bay Brewery has continued their tradition of a rich and deep history of live music, but of course now, with some delicious local craft beer alongside.
Their rotating range of beers is always inspired by the eclectic, creative spirit of their home, Byron Bay. The Aussie summer is the perfect time to enjoy a beer and some live music, so do yourself a favour and swing by.
Want to pass as a beer expert?
Do you know your pilsners from your porters? What about your sours from your saisons? No? Drop these buzzwords into your next conversation and watch your beer-drinking friends turn their heads with confusion.
1. Session Beer
A beer that is usually less than 4.5% alcohol and is very easy to drink.
2. Hazy
Used to describe the remaining sediments or yeast and hops, usually found in IPAs (India pale ales)
3. Saison
A highly carbonated pale ale with sour citrus notes.
4. Juicy
Used to describe fruity, full-bodied beers without lingering bitterness.
5. Mouthfeel
All you have to do is put an adjective such as 'smooth' or 'fruity' in front of mouthfeel to gain royal status amongst beer nerds.
DISTILLERIES
Lord Byron Distillery
Combining sustainability with provenance and traditional hand-crafted methods, Lord Byron Distillery is deeply rooted in Byron Bay. Its land, its people and its culture. Sourcing their ingredients from the family farm, Lord Byron Distillery started so they could 'distil artisan sprints for the discerning consumer'.
Brian and Helen have travelled extensively and worked around the world. Brian loves dark spirits and Helen is passionate about light spirits. Together they strive to create a small-batch, handcrafted range of spirits that aims to deliver a superior tasting experience. 
PS. You can even blend your own gin!
Cape Byron Distillery
Home of the ever famous and popular Brookies Gin. The Brook family are huge contributors to The Big Scrub Landcare Group, with Martin Brook as it's Vice President. But how did this all come about and where does gin fit into their story?
In 1988, Pam & Martin Brook bought a rundown dairy farm and over 35,000 subtropical rainforest trees were planted. Today, this landscape has transformed into a haven for birds and wildlife. Of the 25 botanicals in Brookie's Byron Dry Gin, 17 are sourced locally, many from their rainforest.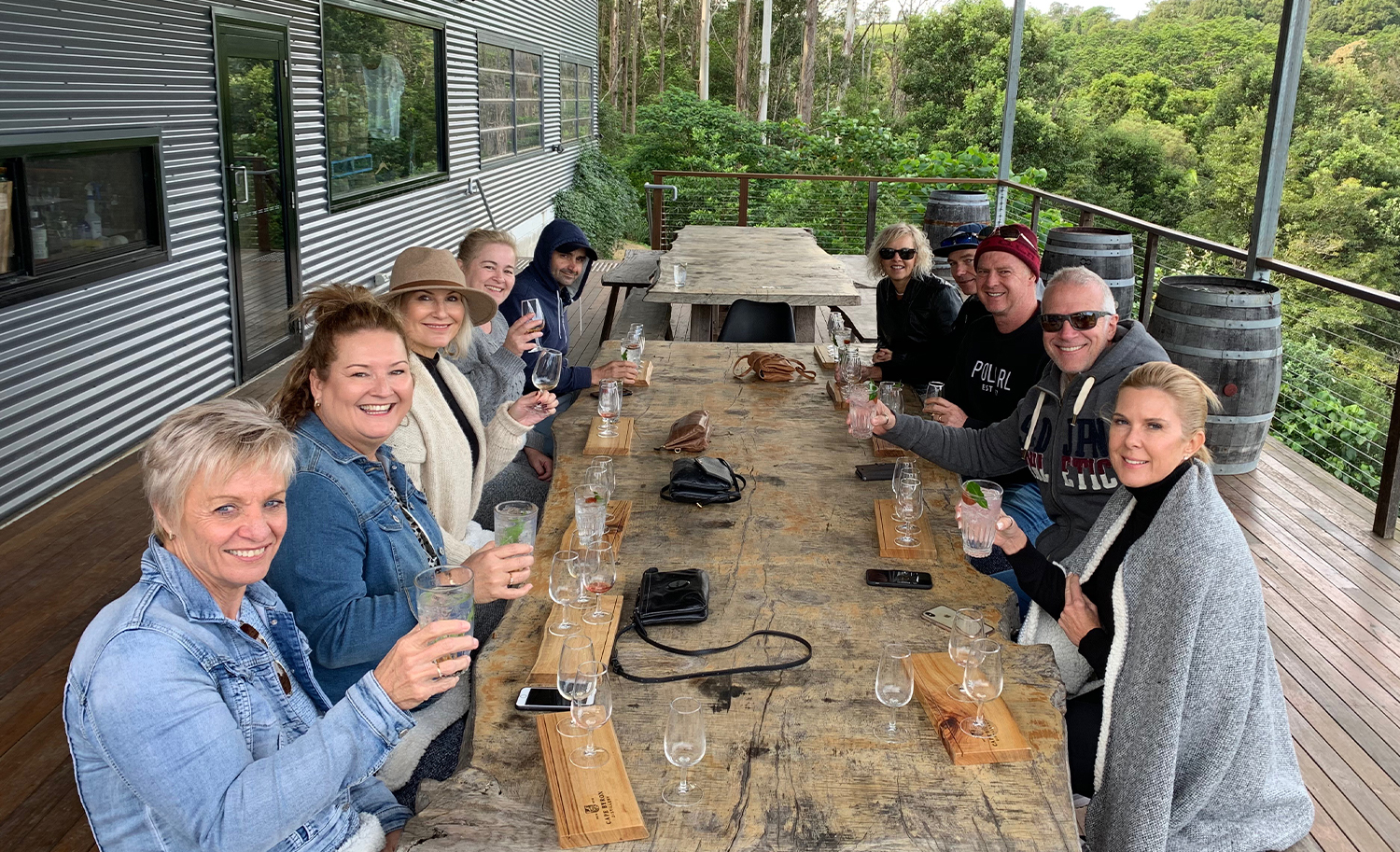 Husk Distillers
Farmers first. Distillers second. Husk Distillers, located in the Tweed Caldera with Mt Warning in their backyard, are practising what they call 'full circle distilling'. Meaning that most of the waste they produce goes back into the farm.
From humble beginnings in an old green farm shed, to a cellar door, bar and cafe. You may know Husk from their famous Ink Gin which they describe as a 'bold risk which paid off'. The whole country soon fell in love with Ink Gin and its vibrant, violet colour and gentle, Australiana taste.
Husk Distillers continue to embody the paddock to bottle and full-circle philosophy in every aspect of their work and continue to impure Australia with their new blends.