''If you do what you love, you'll never work a day in your life''
Born from a love of craft beer and tour guiding, we created Behind the Barrel as a way to share our passion of both industries. We try to emulate the value of the famous quote 'if you do what you love, you'll never work a day in your life'.
Working in tourism for the past 5 years and having been a tourists for much longer, naturally, we have experienced many unique beers and cocktails. From famous German beers to the cocktail scene in London. After every tour we liked to wind down with a beer (or 10) and soon discovered our passion for craft beer and the industry.
Having now settled in Lennox Head, the Northern Rivers seemed like the perfect area to pursue this passion and share it with others. The craft beer and spirit scene here has only been growing. With more craft breweries and distilleries opening, most of them in true Northern Rivers style – having a focus on local and natural ingredients and processes.
We had this realisation whilst sipping on a beer one arvo at the pub – and so our two passions were merged and Behind the Barrel was born. Truly loving the work, beer, spirits and story telling is in our DNA, not to mention we are great designated drivers.
We currently visit a select handful of artisan breweries and distilleries that all have deep passion and integrity for what they do and for the industry overall.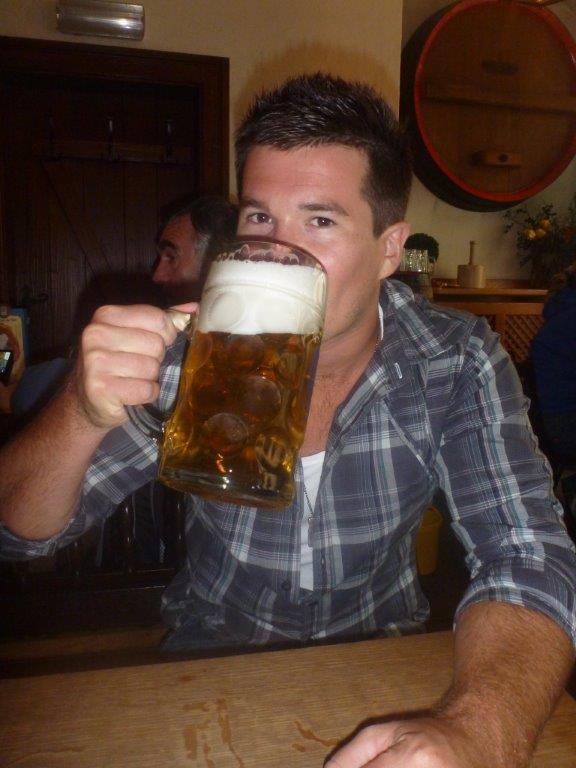 Breweries 
Stone & Wood Tour – born in beautiful Byron Bay and home of the famous pacific ale
Seven Mile Brewery Tour – a family owned brewery with a simple vision to craft the best beer possible
Wandana Brewery Tour – great beer with some quirky features with their brewing
Distilleries 
Lord Byron Distillery – artisanal spirits produced on a family farm, from local farmers and even from you! (see their gin making glass)
Cape Byron Distillery – part of the Brook family farm that's known for the famous Brookies Gin and the delicious local muesli
Hassle free fun, great value for money. Awesome experience. Our tour guide Jarryd was knowledgeable about the local area, on time and just a great bloke. Great value for money, a must do in Byron - 100 stars !!

Top Afternoon What a great tour!! We had a great time. Jarryd was able to pass on so much info. about the whole brewing and distillery process and answered any questions thrown at him. We also had awesome company and it was great to meet new people from different cities. I would recommend this tour to anyone who enjoys a beer and meeting new people.

Girls day out Girls day out with the amazing guide Jarryd. He was fun and quiet knowledgeable of the area. We did the full day Brewery and Distillery tour. This did not disappoint! Who can complain about having Gin for breakfast (it was delicious). Would recommend

Fantastic day! Couldn't have been better! We did the Full Barrel tour yesterday - 6 mates, all from the local area (so a tough crowd, heh heh) in a full group of about 12-13. It was amazing. Jarryd was so knowledgable and just a generally cool guy. We enjoyed his company - and that of the other legends on the tour too. You had long enough at each stop to have your drinks, get another if you wanted and just generally enjoy the vibe, not rushed like some tours can be. You got heaps of booze included and the day we got was so worth it. Day and tour could not have been better. 💯👍

5 Star Was a wonderful unique tour and Jarryd was the most knowledgeable tour guide I have ever experienced

Best day tour in Byron Bay!! This was the best trip I did whilst in Byron Bay. Jarrad was our tour guide for the day and he was fantastic! I was lucky enough to be on a tour with a great bunch of people. We visited the Gin distillery first and had gin for breakfast! Great way to start a Sunday booze tour 👍🏻 We then went to 3 beer craft distillers all different and unique. It was a great day and very enjoyable. Throughout the day Jarrad gave us tips on what else to do and where to eat whilst in Byron which was very much appreciated. This is a fantastic day tour and I highly recommend going on this tour with Jarrad. Thanks again Jarrad 😁
Fantastic Tour guides were really friendly and educated, really encouraged us to have fun, and try new things, also made a bunch of great new friends.

Definitely a full barrel Was an excellent small group tour today with a friendly crew and knowledgeable Host Jarryd that kept us tasting from start to finish and a delicious lunch (loved the Brisket Burger )highly recommend this tour

Excellent tour This was a great tour led by Jarrad who made the day thoroughly enjoyable. Great beer, great wine and excellent yum cha lunch at Yulli's. Great company and great conversation as well. Thoroughly enjoyable day.

Great experience Jarryd was a fantastic guide, full of knowledge about each brewery/distillery. He made us feel very comfortable, super accomodating to all our requests. I would highly recommend this tour to everyone!