SUPPORT YOUR LOCAL COMMUNITY
The world will never forget 2020; these are extraordinary and unprecedented times. Each day, we as a local and a global community sail into uncharted waters, government policies being updated faster than they can be implemented and peoples lives being turned upside down. Although all the Byron Bay tours and Byron Bay day trips have been put on hold, our challenge is to still ask ourselves 'what can we do to support each other and our community?'. When you're buying groceries, consider a home delivery from a local supplier instead of the supermarket, when you're buying your grog, consider the fantastic local breweries and distilleries we visit.
It's true that in times of crisis, the true colours of a community shine and we couldn't ask to be living in a better one. Before times were tough, the Northern Rivers was home to a supportive community and ethical local business and that has not changed. Our beautiful region is home to some truly inspiring stories of businesses supporting community.
Distilleries to the rescue
Cape Byron Distillery, Lord Byron Distillery and Husk Distillers – all of these wonderful distilleries have respectively commenced local production of hand sanitiser. Not only are they supplying it to medical facilities and workers but are also retailing it to the public. On top of this, some are donating 10% of their profits to non-profits and charities. Each distillery continues to play a crucial part in keeping up essential supplies to their own community and we are proud to work and live in such close proximity to these thoughtful, community-minded businesses. Don't forget that you can still buy all their delicious spirits and liqueurs as well. There couldn't be a more perfect time to dive into the world of artisan spirits.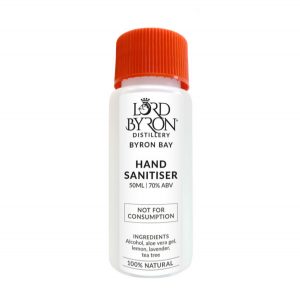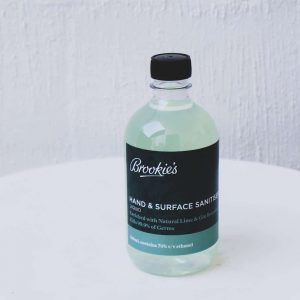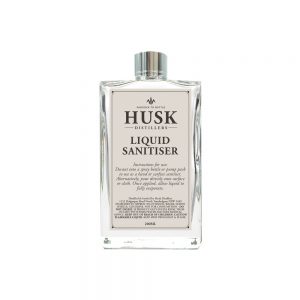 Businesses helping community
Not only is the Northern Rivers community rallying to support their local businesses but many local businesses are doing everything they can to support those who have lost the most during this time.
Foxy Luu's in Byron Bay has decided to give away their nourishing and wholesome bone broth soup for free every day from 2-5 pm.
Suli's Hair Salon in Byron has joined forces with the Byron Youth Activities Centre (YAC) to create the Northern Rivers Pantry Project, which aims to collect donated items and distribute them to the families hit hard at the moment. Find them on Facebook @northernriverspantryproject.
TAFE NSW is also now offering a number of fee-free short courses across a number of industries. If all this time at home has got you considering a new direction, why not utilise this government initiative and make the most of your home time. You could even enjoy a cold beer whilst studying. I knew isolation had a silver lining.
Don't forget about the fires
If you're looking for delicious and ethically made beer, Byron Bay and Stone & Wood are a pillar of ethical business in the Northern Rivers. Their initiatives over the years have gotten more generous as they have grown; but local and wider community support has always been the bedrock of their business ( but don't forget their award-winning, delicious beer). It may feel like a lifetime ago that Australian communities were battling the summer bushfire crisis but there are many people and wildlife still affected. Stone & Wood, alongside 200 other breweries around the country all banned together to brew a 'resiliences beer' to raise money for charity. Stone & Wood have just announced that they will be donating over $2000 to Wildlife Rescue Queensland, who specialise in the rescue, rehabilitation and release of native Australian wildlife. Stone and Wood brewery tours are of course closed at the moment but you can still swing by their taproom to pick up your favourite beer to take home.
Home delivery
Our friends down at Seven Mile Brewery in Ballina are offering a home delivery service to the following postcodes: 2477, 2478, 2479, 2480, 2481, 2482 and 2483. Both their seasonal and full range is available in 4-packs, crowlers and cartons. Spend $50 for free delivery. On top of this, they have just teamed up with Winding Road Distillery to make a locally produced sanitiser to support the medical workers and Ballina community.
The Sun Bistro Bottle Shop is offering a home delivery service so don't despair! Julz is putting together some fantastic wine packages that he'll deliver straight to your door. And of course, you can throw in your favourite beers and spirits as well.
Usually supplying high end, local restaurants, Blue Bay Gourmet are now delivering their great ingredients directly to you! Think pasta, oats, olive oil and other essential, high-quality staples all fresh and ready for you to cook up a storm.
Suncoast Fresh are usually supplying all the top local cafes and restaurants but now they are sharing their produce with you, offering a home delivery service and access to the regions finest produce. Their friendly team and refrigerated transport will deliver fresh, local produce straight to your door.
Let us, help you!
Even though we can't take you on one of our great Byron Bay brewery tour, we still want to help you and help you get to know the region. If you're a local business that needs a shoutout, get in contact with us and we will share your business through our social media. We are all in this together, individuals and businesses alike, so reach out and let's help each other. And you can indirectly support us by continuing to support all the breweries and distilleries we visit. Above everything, stay safe and healthy during these crazy times (and why not enjoy some beer along the way).
#supportlocal