Stone & Wood: A Pillar of the Community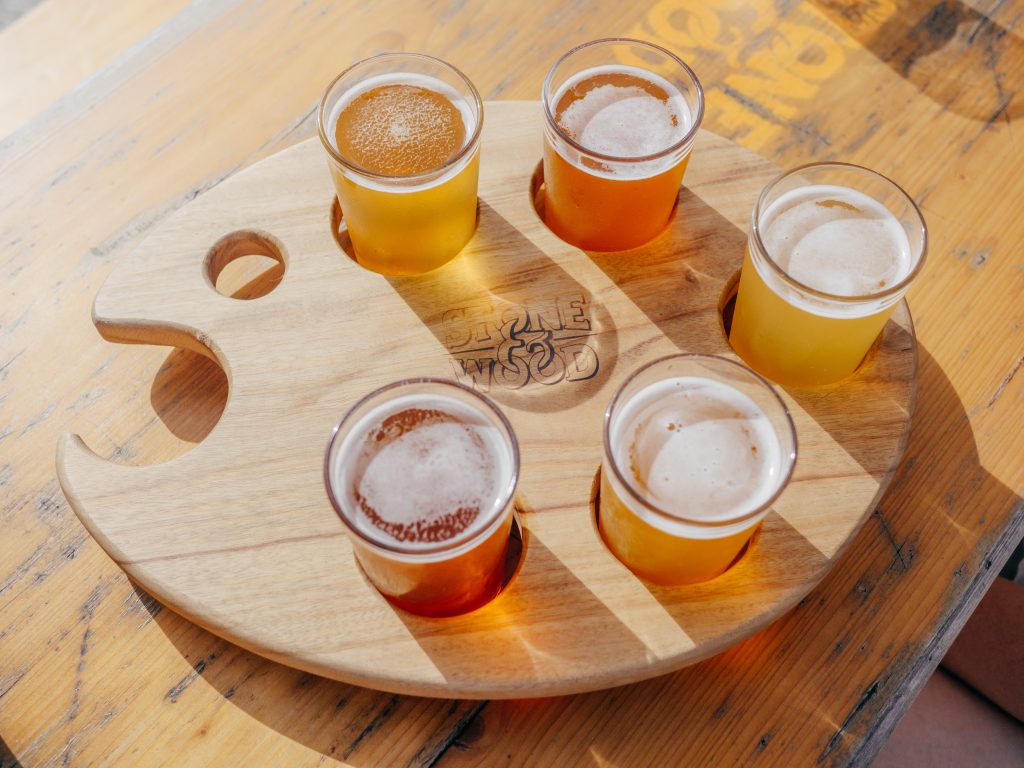 Stone & Wood play an important role in the Byron Bay community. Not only are they a prime example of the spirit of Byron Bay, but they work closely with the local community, making our world a better place, one brew at a time. Born from friendship, and a shared love of beer, Stone & Wood has established itself as an important pillar within our community. 
Their History
Stone & Wood was created in 2008 by friends, Brad, Ross and Jamie, who decided after many years of working within the brewing industry, they wanted to branch out at start up their own brewery. Stone & Wood's founders were deeply inspired by the idea of a 'village brewery', a brewery that crafts high-quality beer whilst giving back to their community.
Stone & Wood had humble beginnings and was initially based out of a modest shed in Byron Bay's industrial estate. Here, they began their journey of creating a community-conscious brewery and bringing their dreams to life.  
Their venues 
Far from their humble beginnings. Stone and Wood now have three different locations where they operate. The heart and soul of Stone & Wood, they still reside in their original location of Byron Bay, but they also feature a metropolitan location in Brisbane, and the heart of Stone & Wood's production, the Murwillumbah brewery.
Byron Bay Brewery 
Here, they operate a brewery and tasting room open for the public to explore and enjoy the taste of the best beer in the Northern rivers. Fondly dubbed as their 'spiritual home', the brewery is located in the heart of the Arts & Industry in Byron and is home to 31 brewing tanks, a canteen run by 100 Mile Table and a sprawling beer garden. Their Byron Bay brewery is not only the perfect place to explore and learn about the world of craft beer but is just a great venue to enjoy a beer with your mates.
If you'd like to explore this awesome brewery, you can book a tour with us! As part of our Byron Bay brewery and distilleries tours on offer, Stone & Wood is one of the incredible venues we visit. We offer full-day, arvo or custom tour sessions to suit your needs. Book your tour with us today!
Brisbane Brewery 
Changing scenery to the bustling city, Stone & Wood bring their charm and excellent brews to a more urban scene in their Brisbane brewery located on Bridge Street in the Fortitude Valley. 
Situated inside the heritage-listed Trails Ice building, they serve up their range of classic brews alongside exclusive Brisbane brews and delicious food. This location boasts an 8-hectolitre brewhouse and 24 taps pouring some of the city's most innovative beers, however, this is so much more than just your average tasting room.  It's perfect for after-work drinks, weekend events and parties, with a menu bursting with gastro-pub fare delights and refreshing brews. For those who prefer something a little less on the froth, they offer a range of wines, seltzers and ginger beer. 
The brewery offers venue hire and can cater for 20 to 200 guests, so it's the perfect place for your next birthday, reception or corporate function.  
Murwillumbah brewery 
The beating heart of Stone & Wood's operations, their Murwillumbah brewery, located only 45 minutes from their brewery in Byron Bay, is where they produce the majority of their beer. This second brewery was opened in 2014 and was established when Stone & wood was still operating out of their former Byron Bay brewery in Boronia Place. This second brewery enabled them to meet the growing demand of Stone & Wood drinkers across the country.  
Although fascinating, this location is not open to visitors and is reserved for the production of fine brews. 
Ingrained Foundation
After donating $750,000 to charities between 2013 and 2018 as part of their efforts to give back to their local community by supporting Northern Rivers grassroots charities, Woods & Stone established their not-for-profit the inGrained Foundation. 
For every 100L of beer sold, Stone & Wood donated $1 towards the inGrained Foundation. 
The inGrained Foundation helps Stone & Wood respond to communities experiencing hardship or crisis, such as the 2019-20 Australian bushfires, where during this time the inGrained Foundation contributed over $36,000 to rural fire services with help from the community.
In 2019, the inGrained foundation launched its Northern Rivers Large Grants Program, which offered $60,000 in funding for Northern Rivers not-for-profits with a DGR status. In 2020, they were able to raise the funding pool to $100,000!
It's clear that Stone & Wood are not only an industry leader, but a pillar of their local community.