Our Favourite Pubs In The Northern Rivers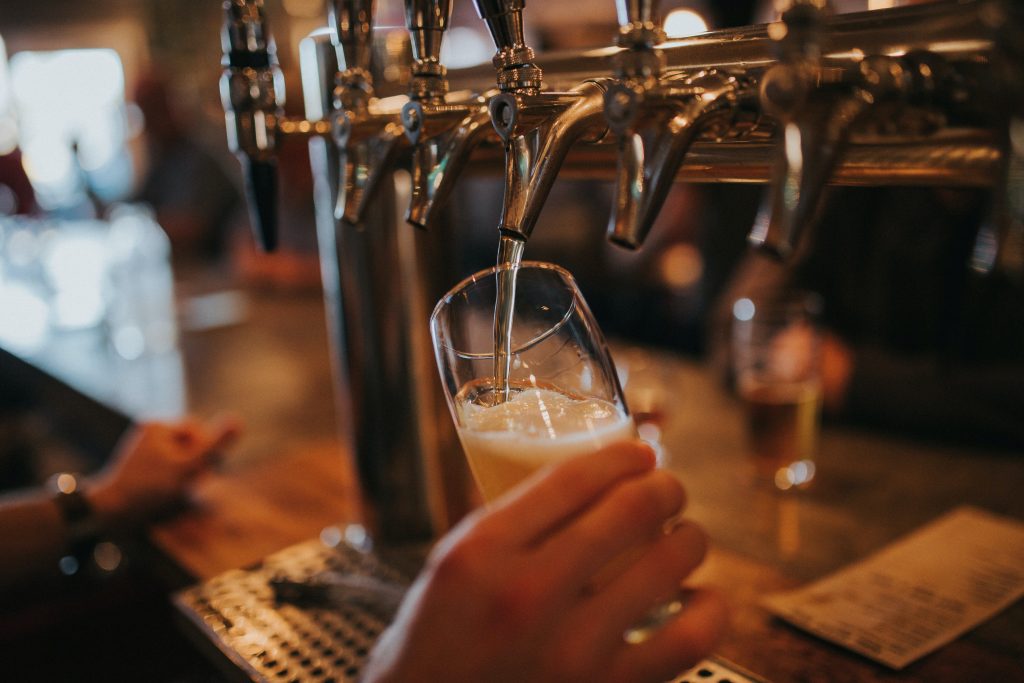 If you haven't explored the local pub scene in the Northern Rivers, you're missing out. Clearly, we love a good pub, so trust us when we say that some of the best pubs in Australia are local to the Byron area. There's such a variety of locations, from large-scale pub gardens to small, classic country pubs, here are our top picks of pubs in the Northern Rivers.
Hotel Brunswick
The Hotel is a timeless classic and is an integral part of the history of Brunswick Heads. If its jaw-dropping brick façade doesn't immediately grab your attention, its great food, electric atmosphere, and an amazing selection of Byron Bay craft beers, surely will! We can't forget to mention that they have their own beer, named after the hotel! The 'Hotel Brunswick Classic Brew – Summer Ale' is made by the one and only, Seven Mile Brewery, a local Byron Brewery, who also happens to be one of the locations we visit on Behind The Barrel Byron Bay Brewery Tours! They've also got an amazing extensive menu to satisfy whatever craving you're having. Whether you feel like a traditional pub Parma, or if you're craving a fresh, plant-based meal, like their homemade Buddha Bowl, Hotel Brunswick has it all!
Billinudgel Hotel
Fondly known as 'the last of the good old pubs', Billinudgel Hotel epitomises the traditional Aussie pub. With a community atmosphere, and a menu filled with comforting Aussie classics, this pub is a must-visit. Since opening in 1906, the Billi Pub has served locals and visiting tourists for over 100 years! Don't be fooled by their humble appearance – they also feature large grounds, that can hold functions of any size, and are able to cater for up to 250 people! By far the best feature of this pub is its friendly, community atmosphere. You can't miss visiting this absolute gem, so make sure you call in on your next visit and have a beer with Wombat!
The Channon Tavern
The Channon Tavern has all you could possibly ask for at any good pub; delicious food, amazing booze, entertainment and affordable accommodation. Nestled alongside Terania Creek, and located downstream from the stunning Protestors Falls and Nightcap National Park, the Tavern is surrounded by an abundance of natural beauties to explore. With sprawling lawns, a playground for the kids, and pool tables for the adults, this pub is perfect for families, or functions. Don't forget to check out the local talent that performs at the pub!
Beach Hotel Byron 
The Beach Hotel Byron was born out of a vision to incorporate the relaxed, and unique vibe of Byron into a world-class hospitality experience. Where the beach, world-class dining, and a classic Australian pub meet, the Beach Hotel encapsulates everything it means to be a modern, coastal pub. With an extensive menu, filled with delightful delicacies, and a selection of delicious beverages, stunning views, and luxurious rooms, look no further than here for your next stay at Byron Bay! There's never a dull moment at the Beach Hotel, with live artists frequently performing, and a bottle shop full of goodies! You can also host functions here, with your choice of their various onsite locations, depending on the size of your function. If you are looking for a refreshing and relaxing pub experience, look no further!
Shaws Bay Hotel Ballina
This absolute gem is pub has always been popular with the locals, known for its friendly and relaxed atmosphere. Having been completely refurbished, this hotel has renewed its classic charm, whilst introducing some of the modern conveniences. With a focus on a family-friendly dining experience, the Shawsy appeals to all ages!
The Lennox Hotel
Another pub situated in a beautiful location is the Lennox Hotel. Located beachside, it's a hub of bustling activity where locals mix together with tourists, creating a relaxed, seaside pub atmosphere.  Sit back and relax, whilst sipping on an ice-cold beer soaking up the incredible views of Seven Mile Beach. With its relaxed atmosphere, first-class cuisine and live music, this pub has something for everyone to enjoy.
Middle Pub Mullumbimby 
You cannot pass up a visit to the Middle Pub in Mullumbimby! It is an absolutely incredible find, and you'll be stoked when you find out that all of their meals at Lunch are only $15! Although the sceptics may be quick to judge that price, you'll be thrilled to discover that for the price you receive a delicious, good-sized meal. There's no scrimping at the Middle! Their menu features an eclectic mix of classic favourites, and some unique dishes – there's something for everyone! Take a wander up to the balcony and enjoy your meal, and a cold beer, whilst you gaze over the main street and breathtaking views of the mountains.
What better way to finish your Aussie pub crawl (or stroll, depending on you) with a Behind The Barrel Byron Bay Brewery and Distillery Tour? Book yours here today!